30th year
The following roles and membership structure is developed in accordance with CIA bylaws approved by the British Columbia Government non-profit societies act, and also ZNIR bylaws, in accordance with the laws of the Japanese Government Ministry of Justice.
See the CIA Membership Status Chart, detailing the CIA member responsibilities and authority.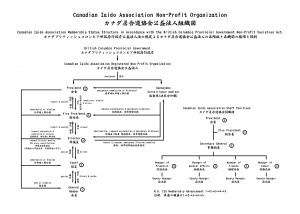 The Canadian Iaido Association (CIA) President is the absolute decision maker in the CIA, and his decision is final and authoritative unless, in a rare situation, there is advice from the ZNIR or the Auditor Itoh Sensei. The CIA President also has the right to discuss with Auditor Itoh Sensei regarding expulsion or excommunication of any member or dojo from the CIA.
The CIA Vice President acts as an executor of the President, who, along with the president, hands out Dan and signs Kyu certificates at the appropriate seminars. With the President's assent, the Vice President is also allowed to safe-keep the official seal of the CIA, along with the other official artifacts.
The Kansayaku (監査役) Itoh Takeji Sensei has the special authority to enforce ZNIR and CIA regulations, including expelling or excommunicating any member or dojo, as well as giving out corrections to enforce appropriate regulations. This is not meant as a punishing element but to protect the CIA and ZNIR legitimacy and quality of members.