24th year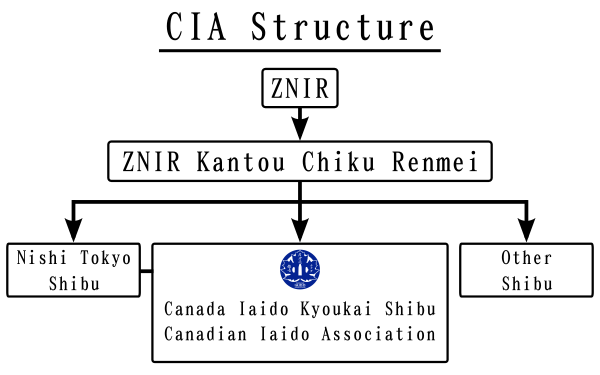 The Canadian Iaido Association is a Canadian Non-profit organization dedicated to the study and promotion of Iaido in Canada. In 2014 the CIA became officially recognized as a Kyoukai of the Nishi Tokyo Shibu in the  Kantou Chiku Renmei of the Zen Nippon Iaido Renmei (ZNIR). Later, in 2015, the CIA became a full Shibu, or subdivision, of the Kantou Chiku Renmei. To date, the CIA is the first and only foreign association to join the ZNIR.
Founded in 1954, the ZNIR is the largest and oldest Iaido only specialist organization in Japan and was established in accordance with the Japanese bushido spirit to pass on the time-honoured system of Kobudo Iaido developed over the past 500 years.
Notes for the diagram:
Zen Nippon Iaido Renmei (全日本居合道連盟) is the All Japan Iaido Federation
ZNIR Kantou Chiku Renmei (関東地区連盟) is a Renmei in the ZNIR encompassing the Kantou region of Japan which includes the greater Tokyo prefecture and six other prefectures.
Nishi Tokyo Shibu (西東京支部) is the West Tokyo Subdivision of the ZNIR Kantou Chiku Renmei
Other Shibu are various divisions under the Kantou Chiku Renmei.
The Canadian Iaido Association name in Japanese is "Canada Iaido Kyoukai Shibu" (カナダ居合道協会支部). The CIA is a Shibu, or "branch/division" under the Kantou Chiku Renmei.